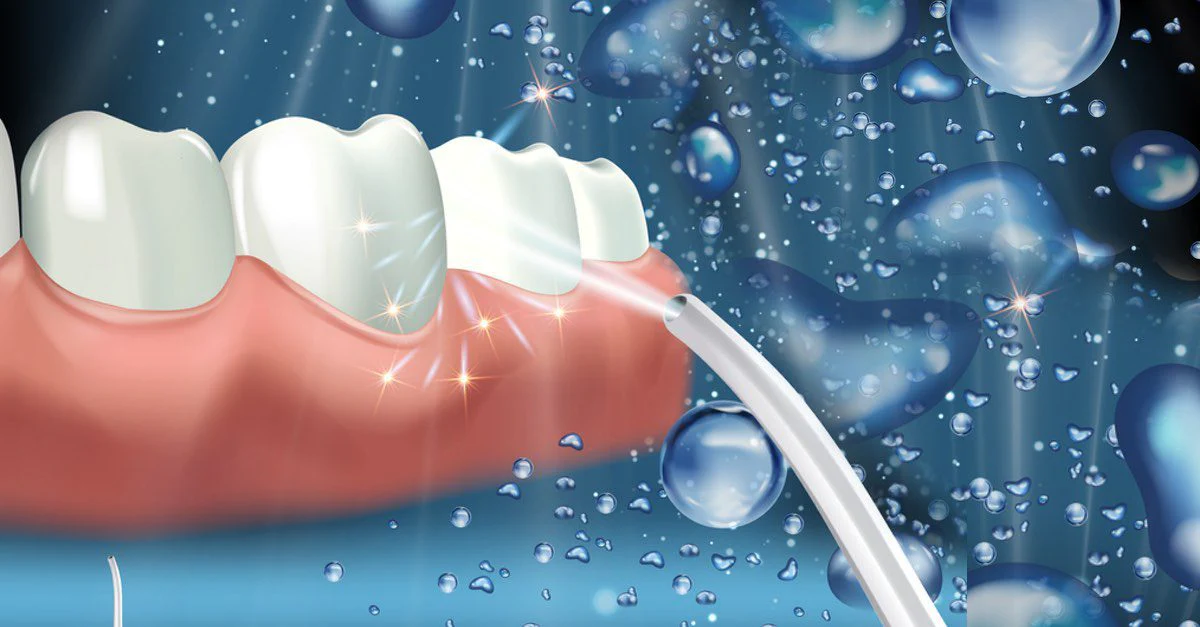 Get a brighter, healthier smile removing hard-to- reach food particles and plaque.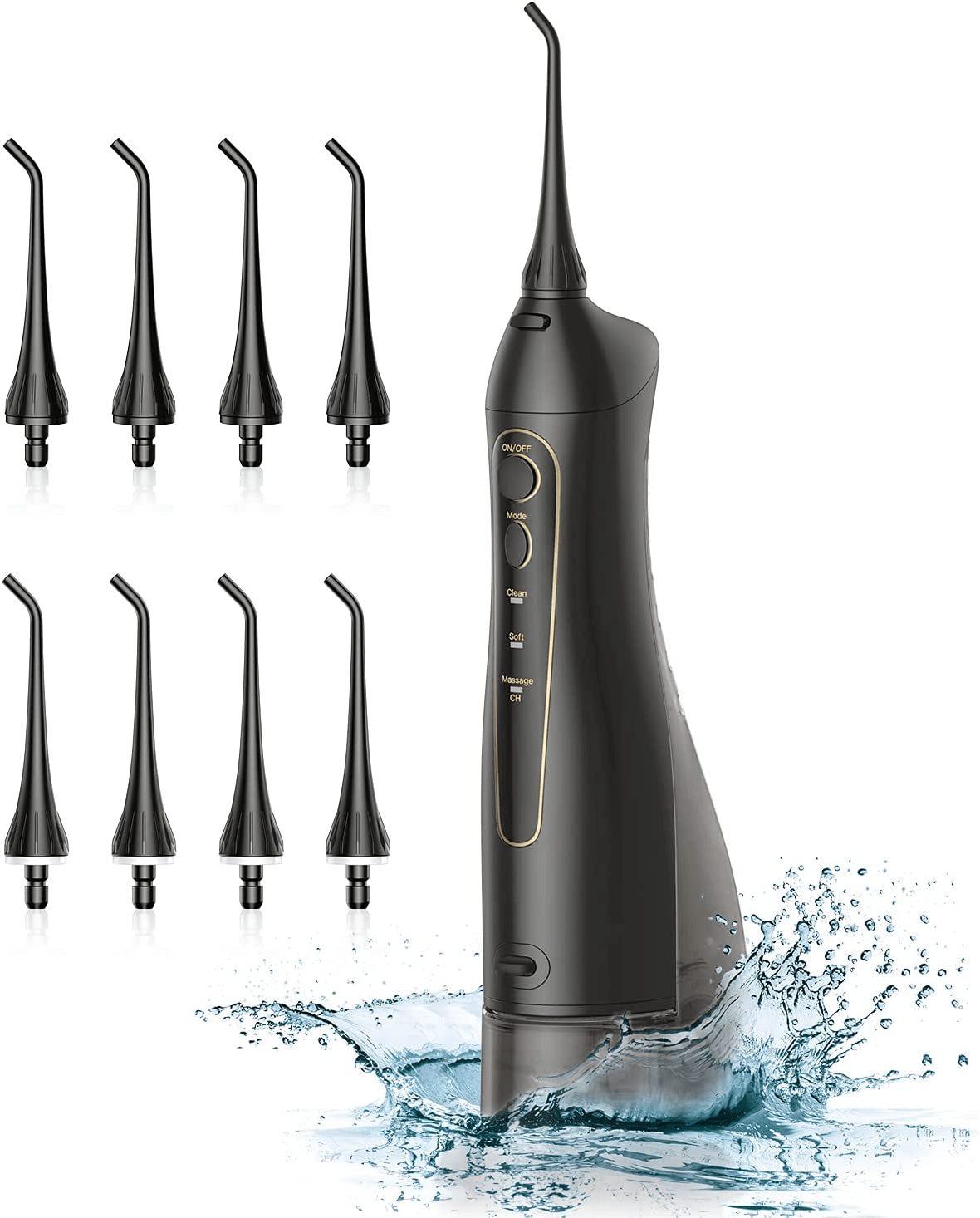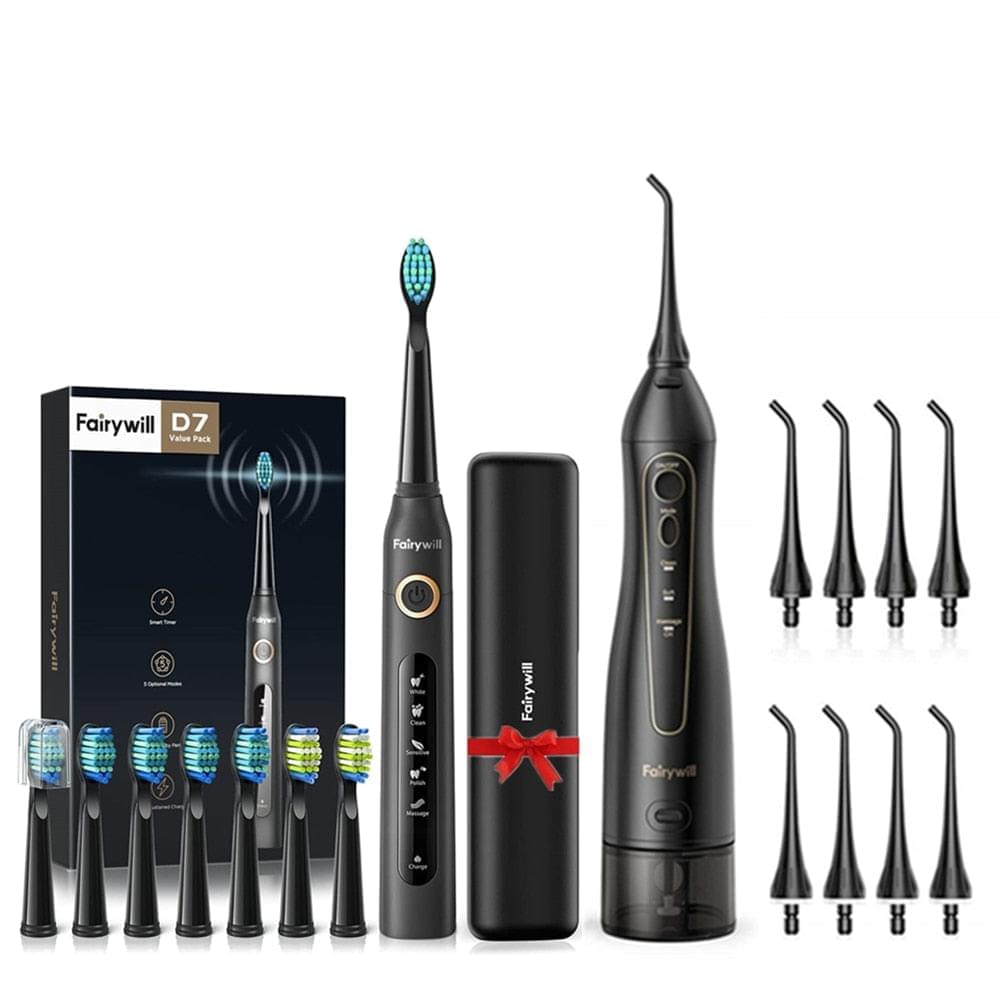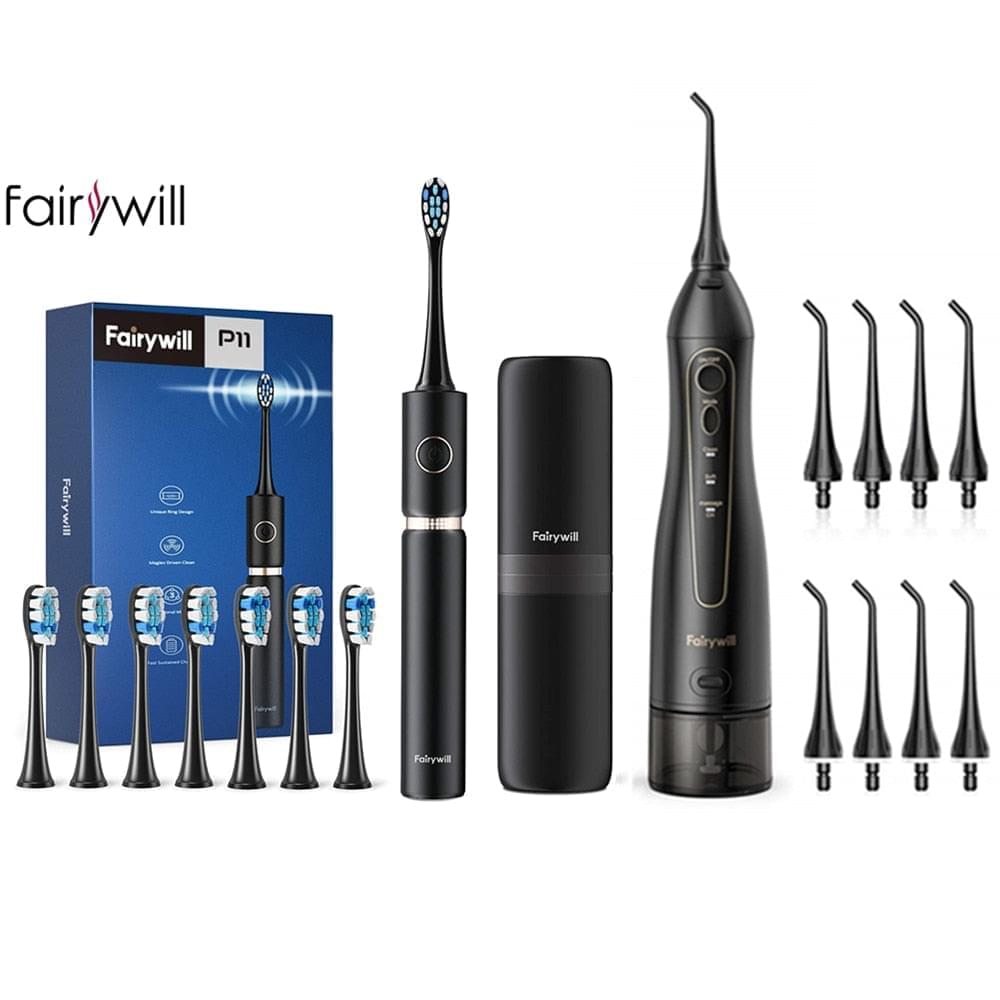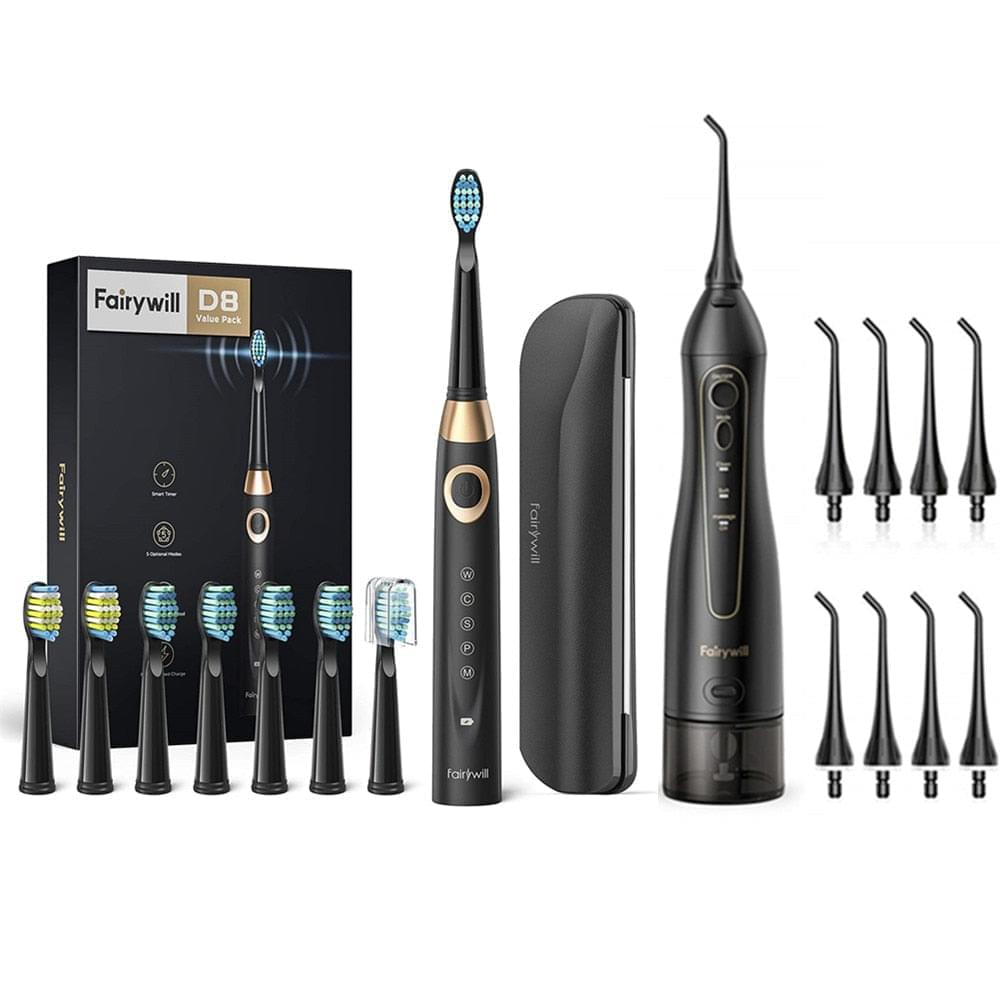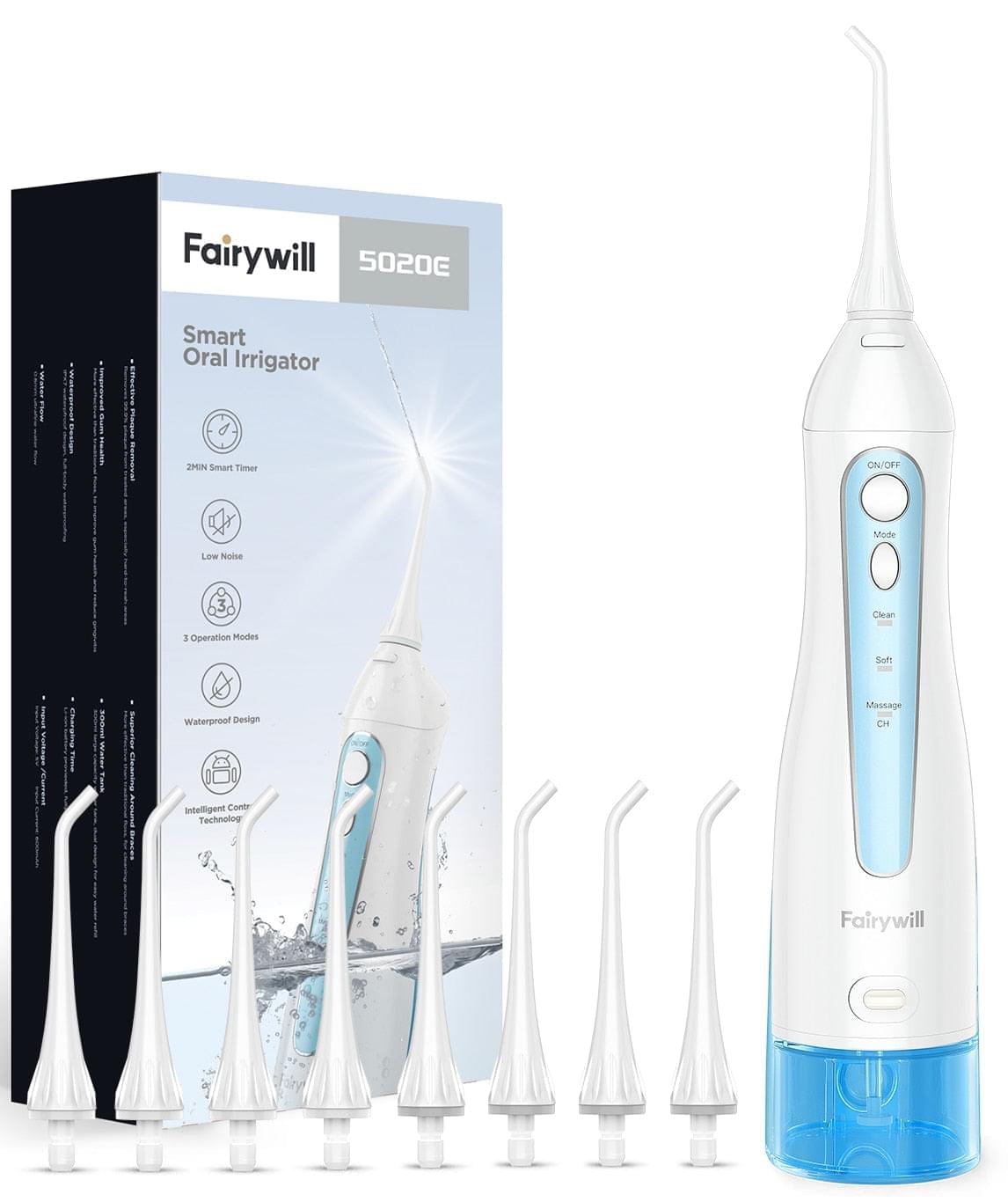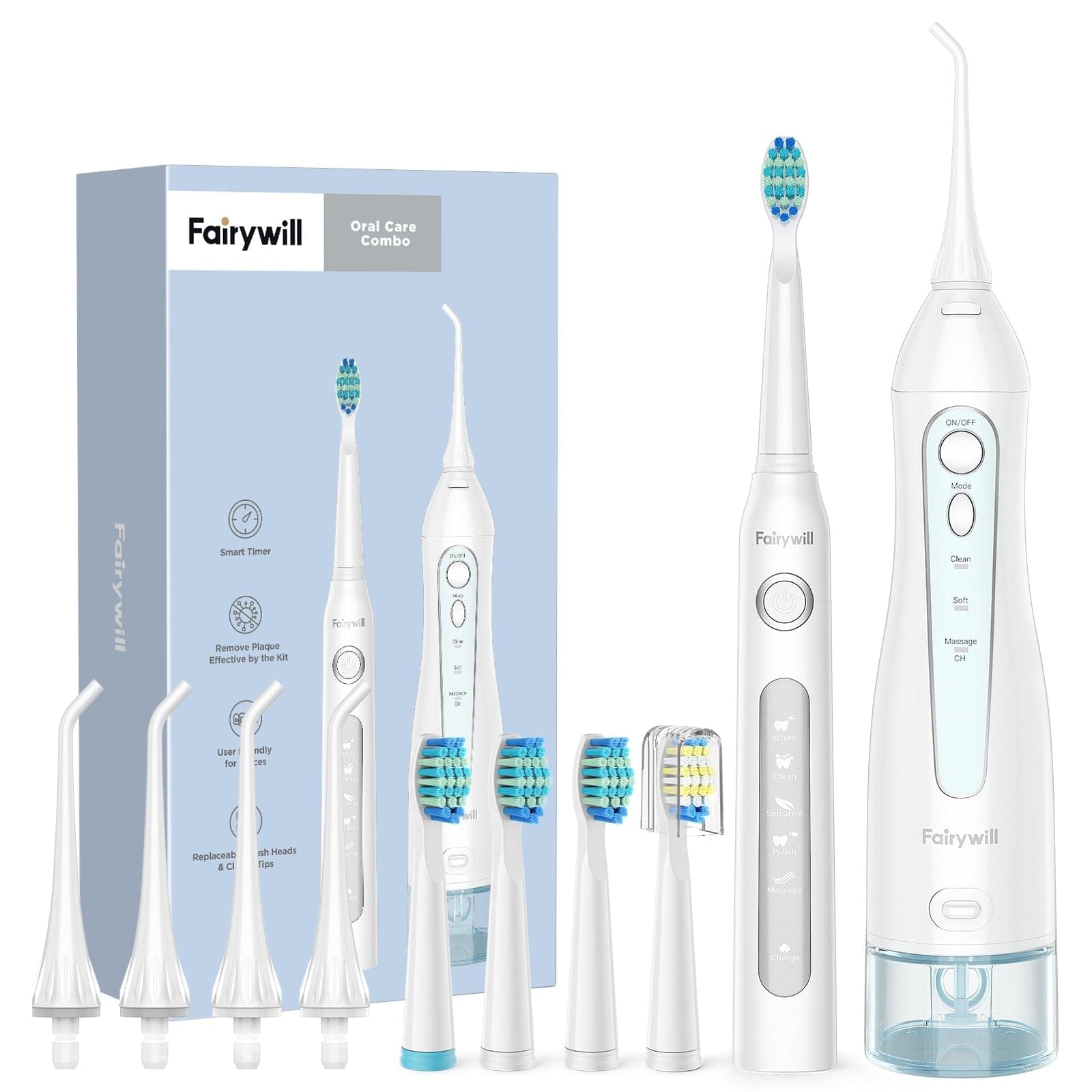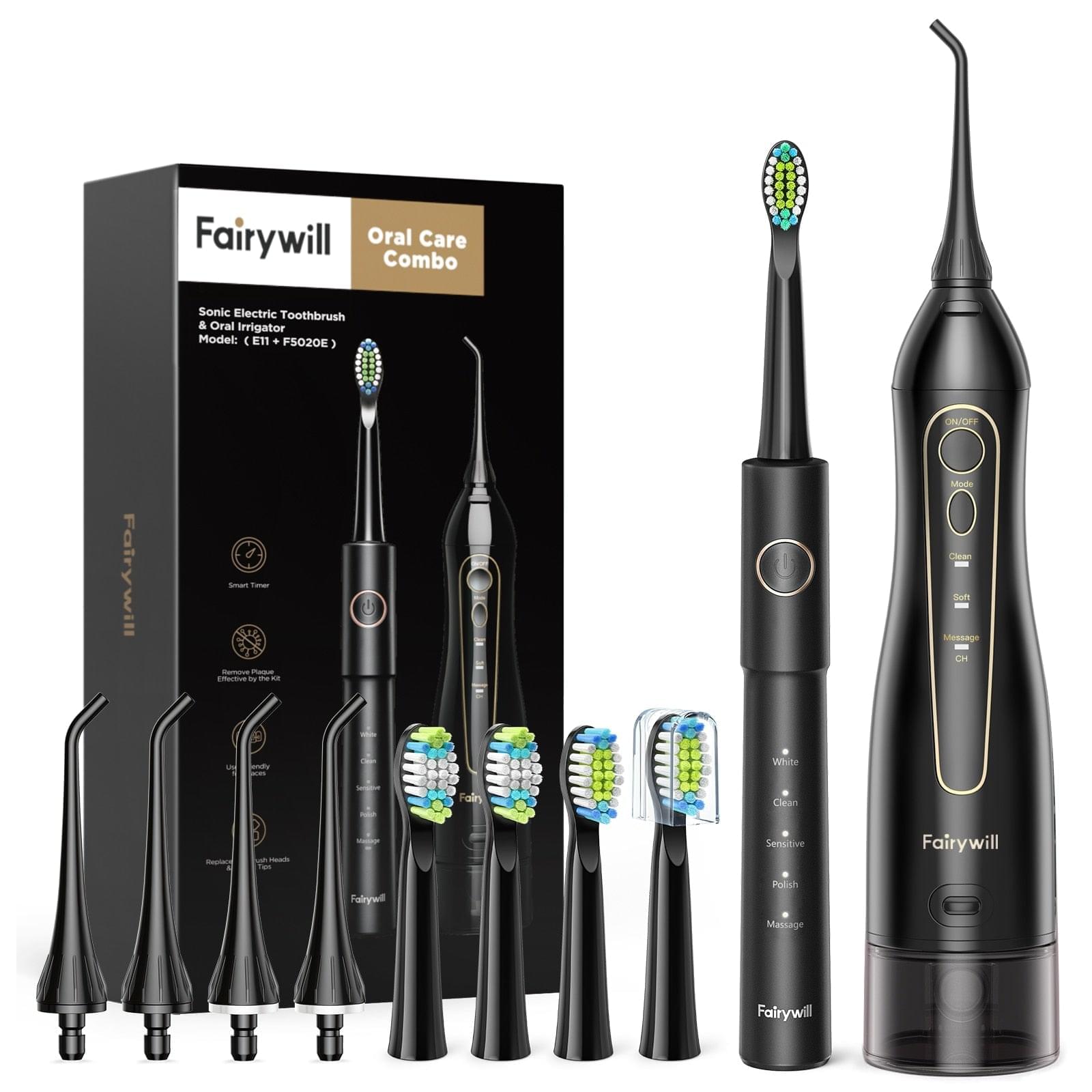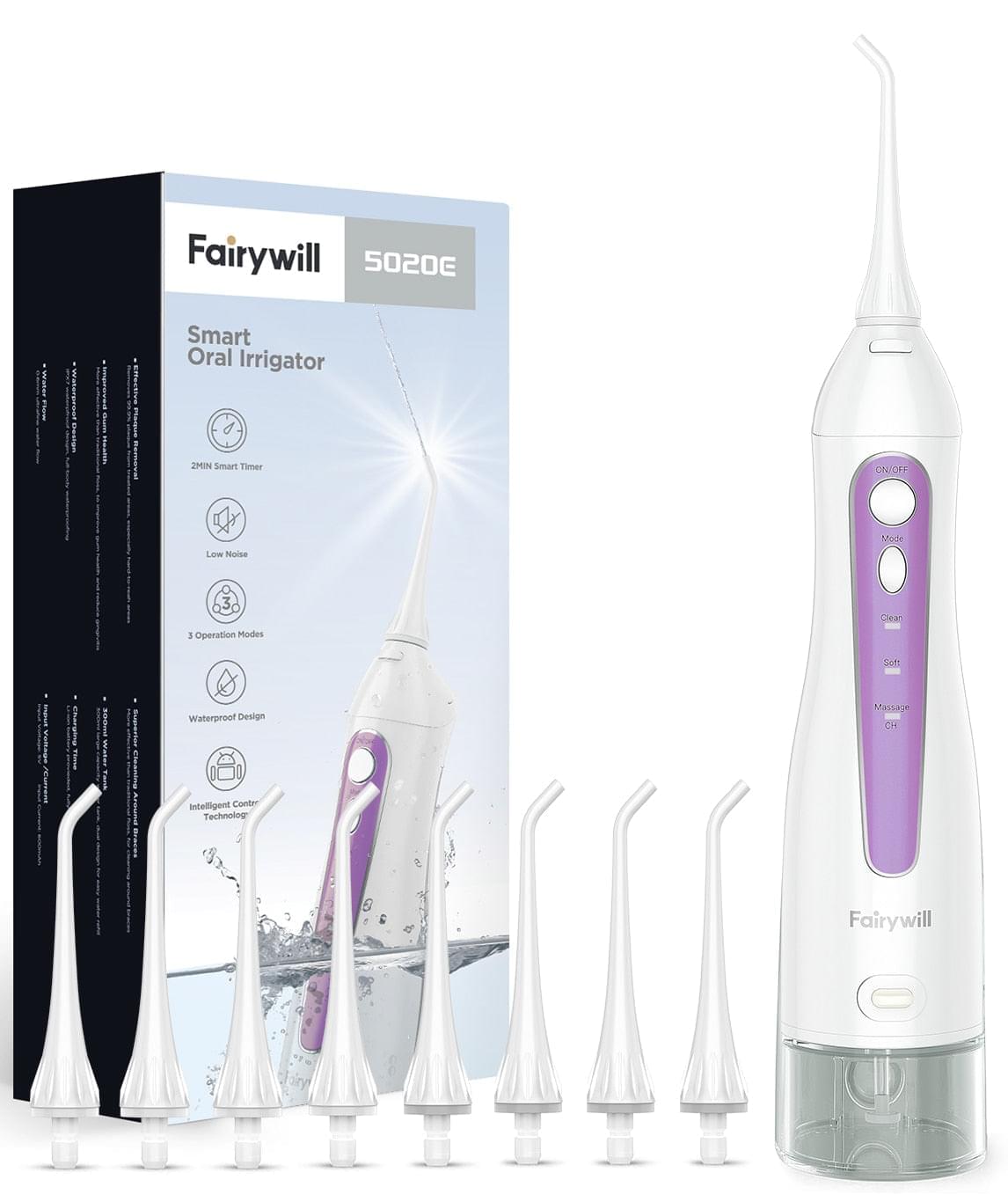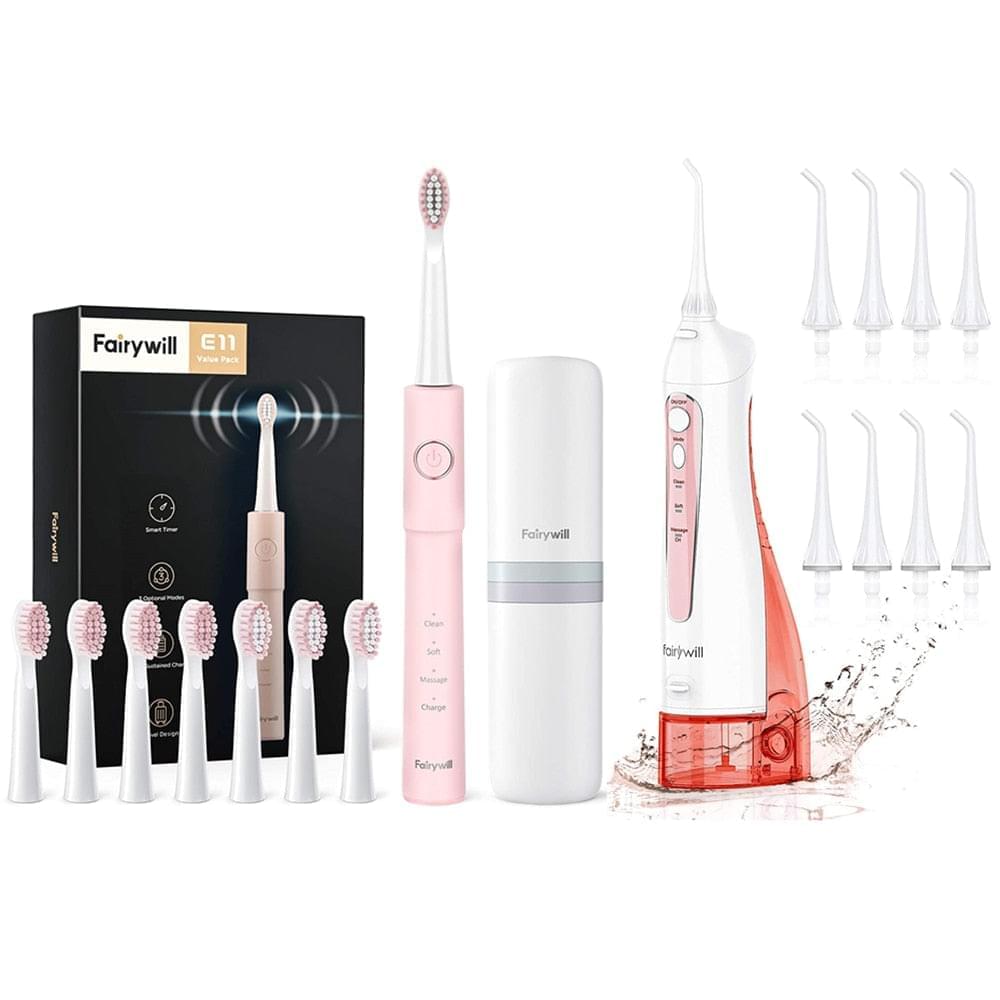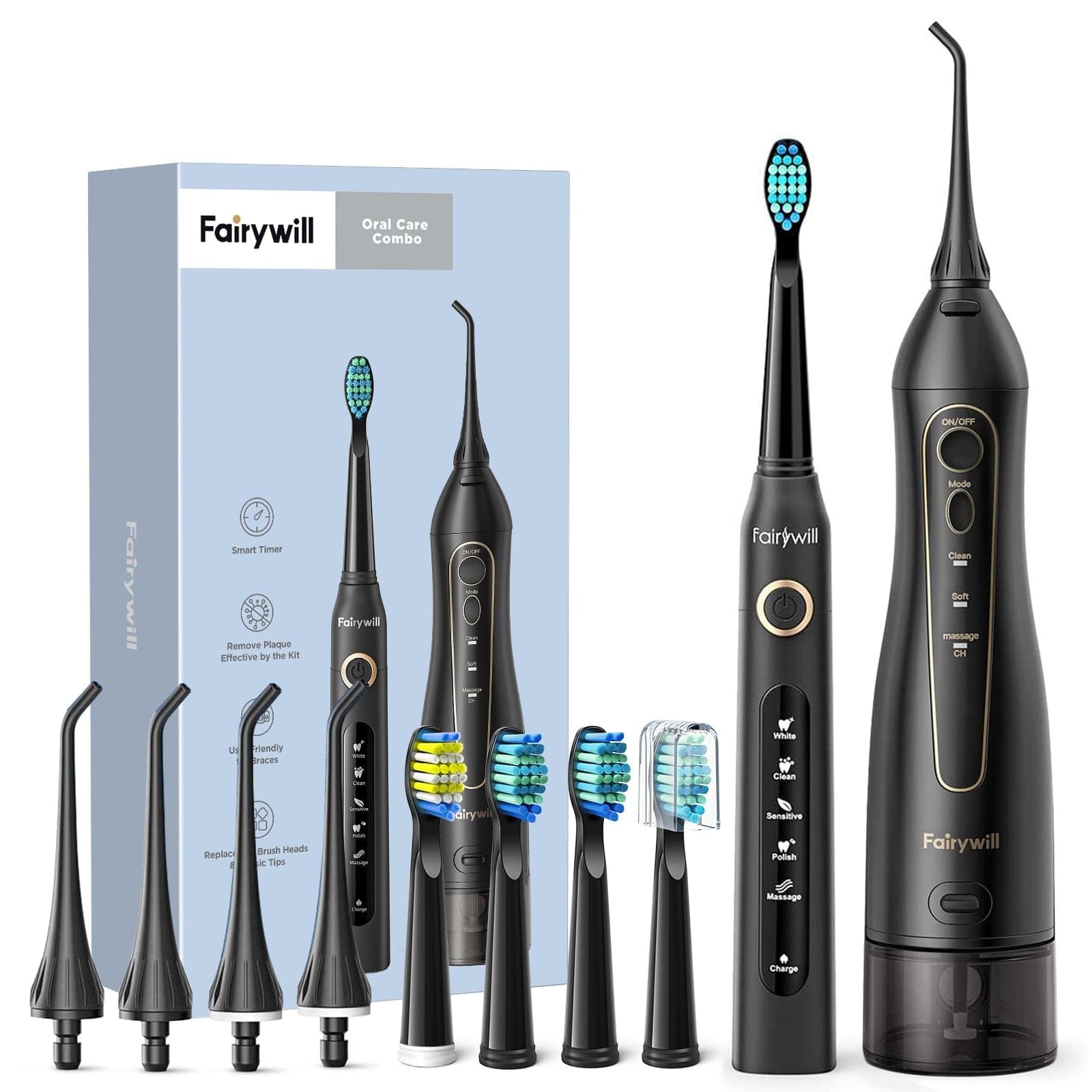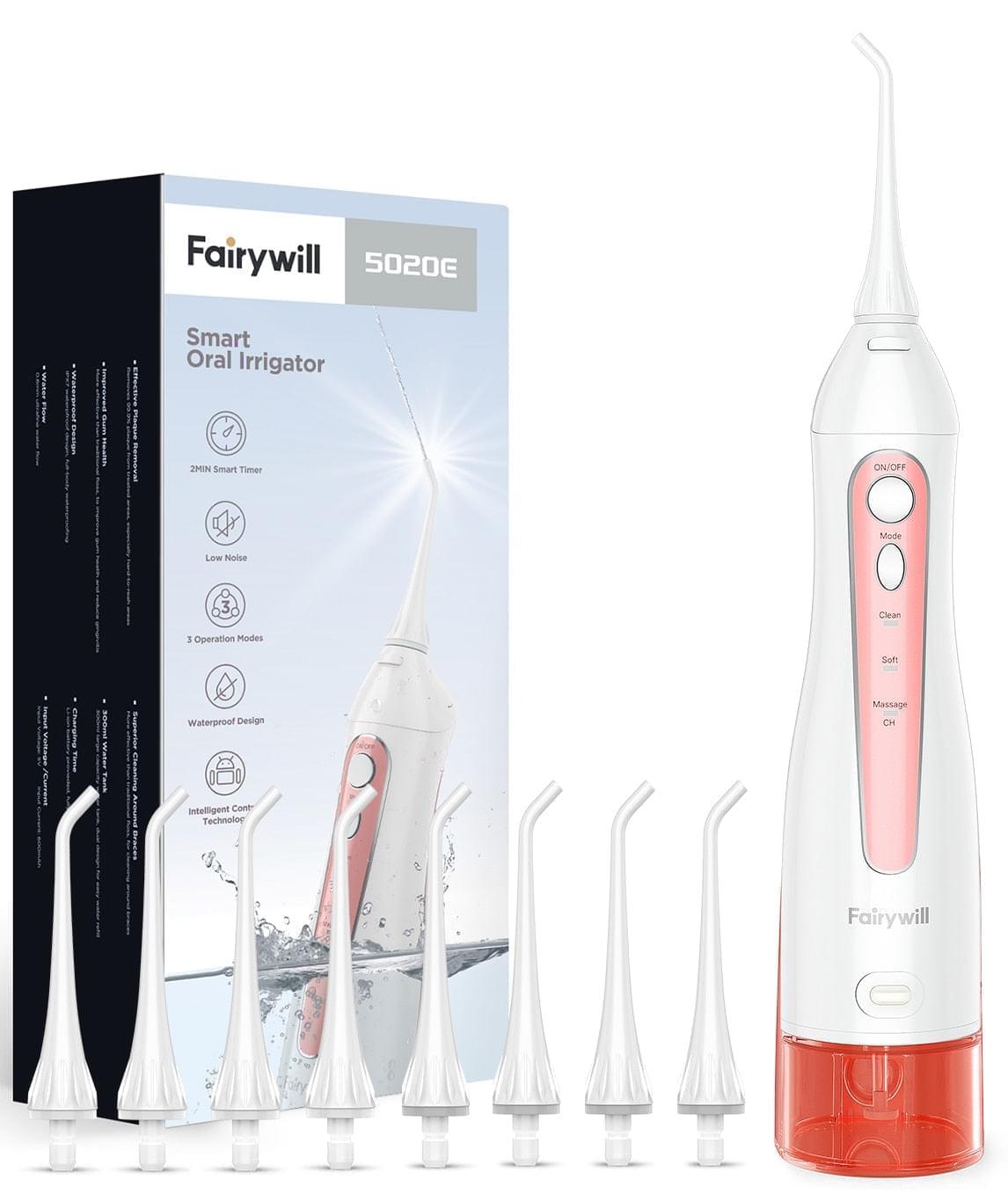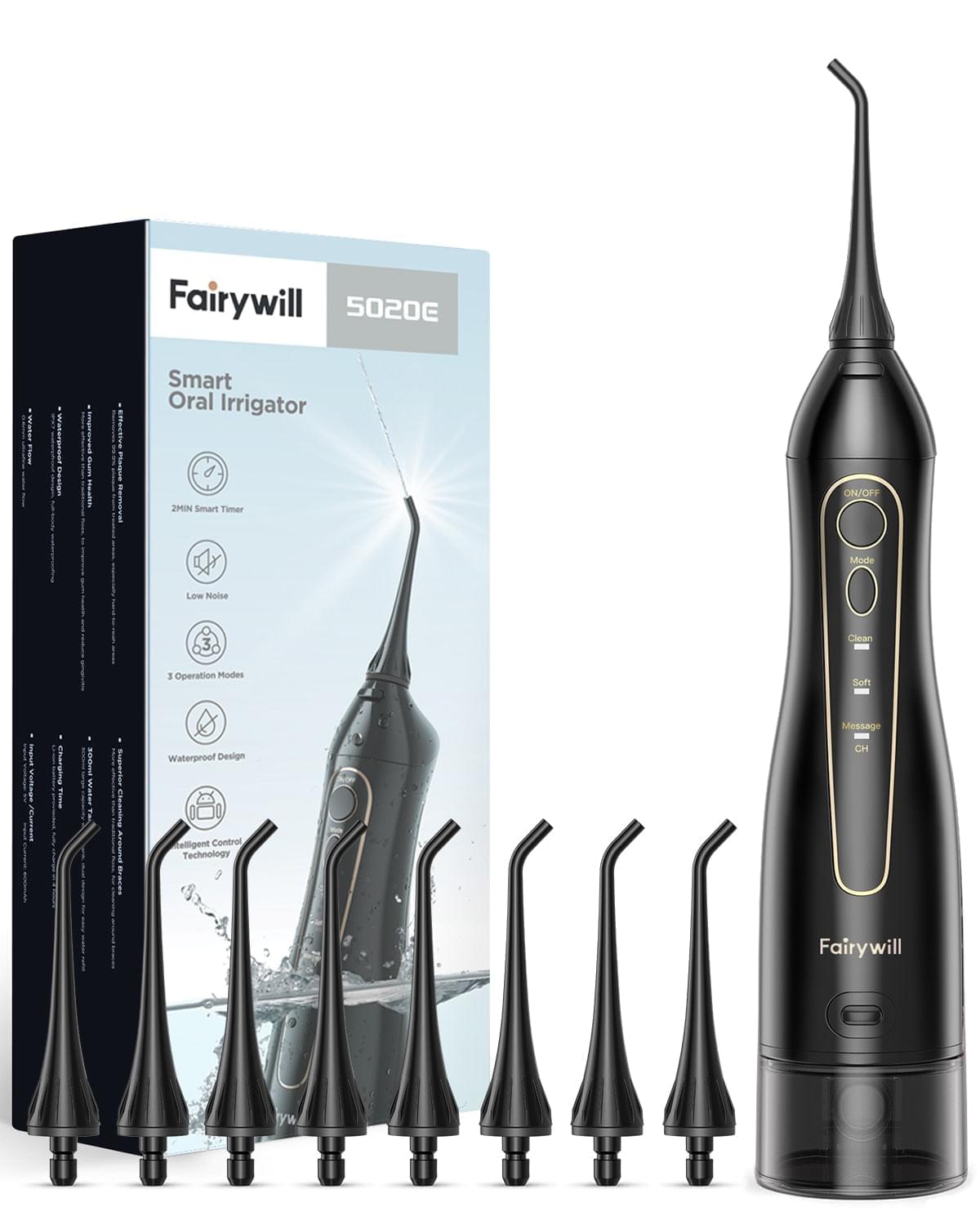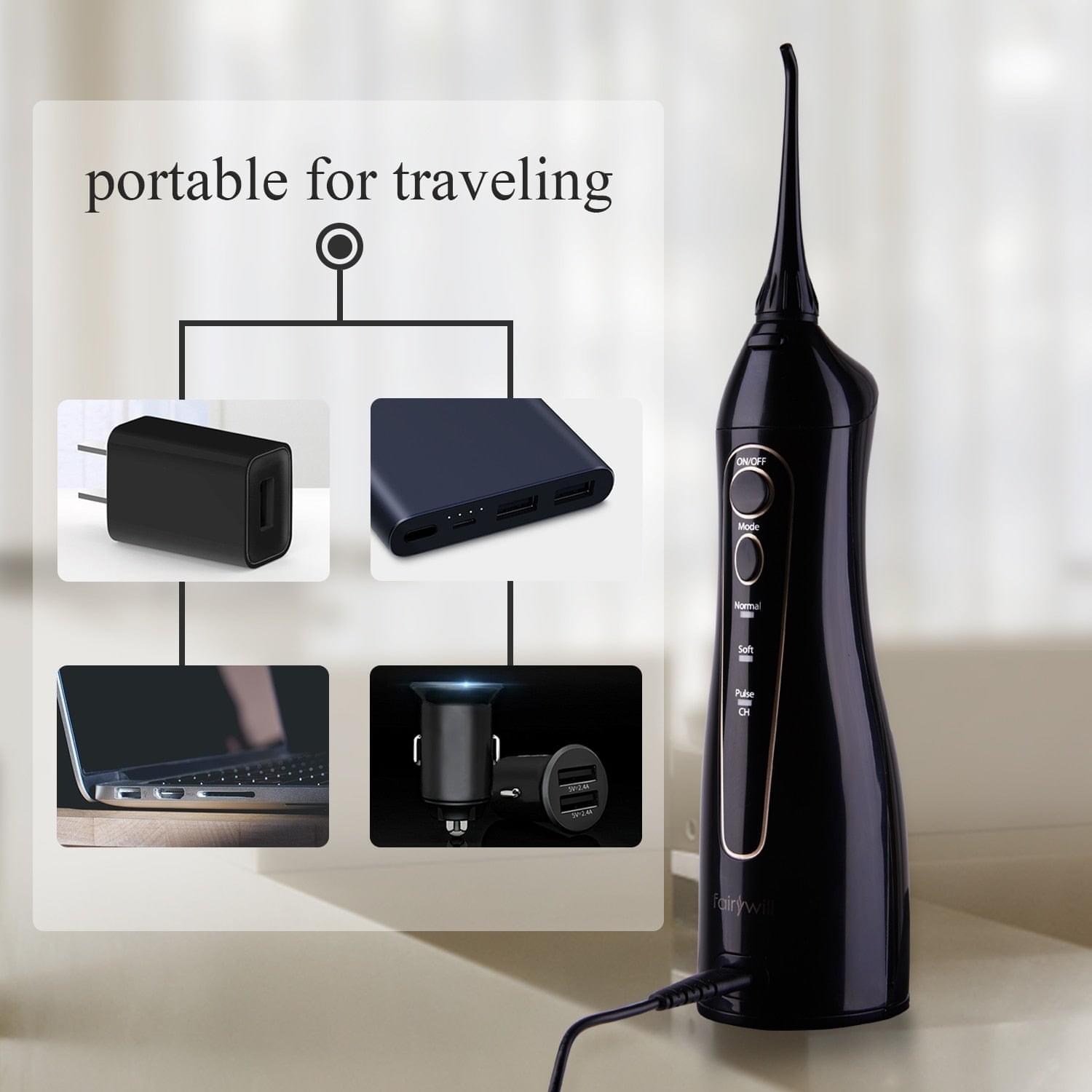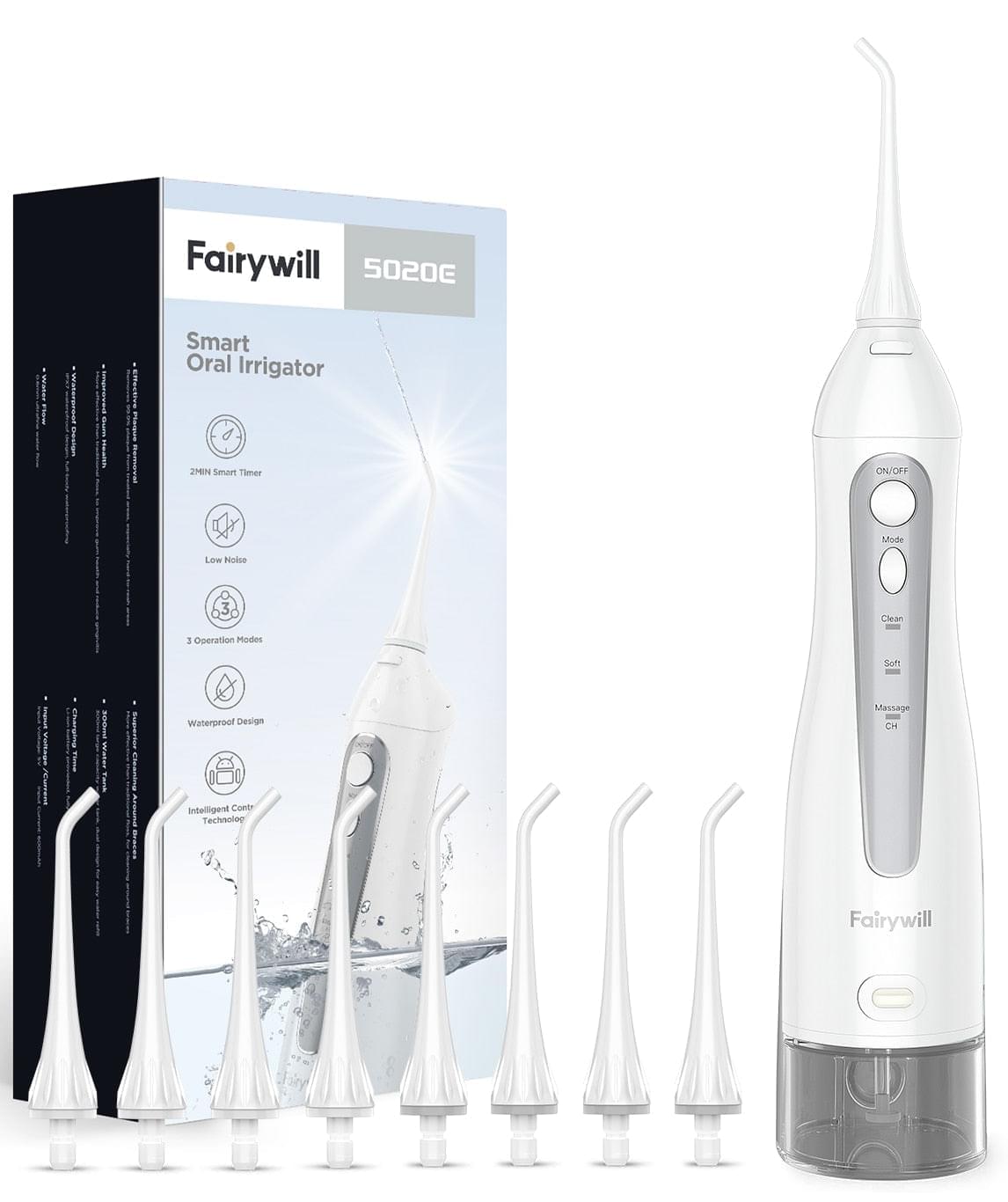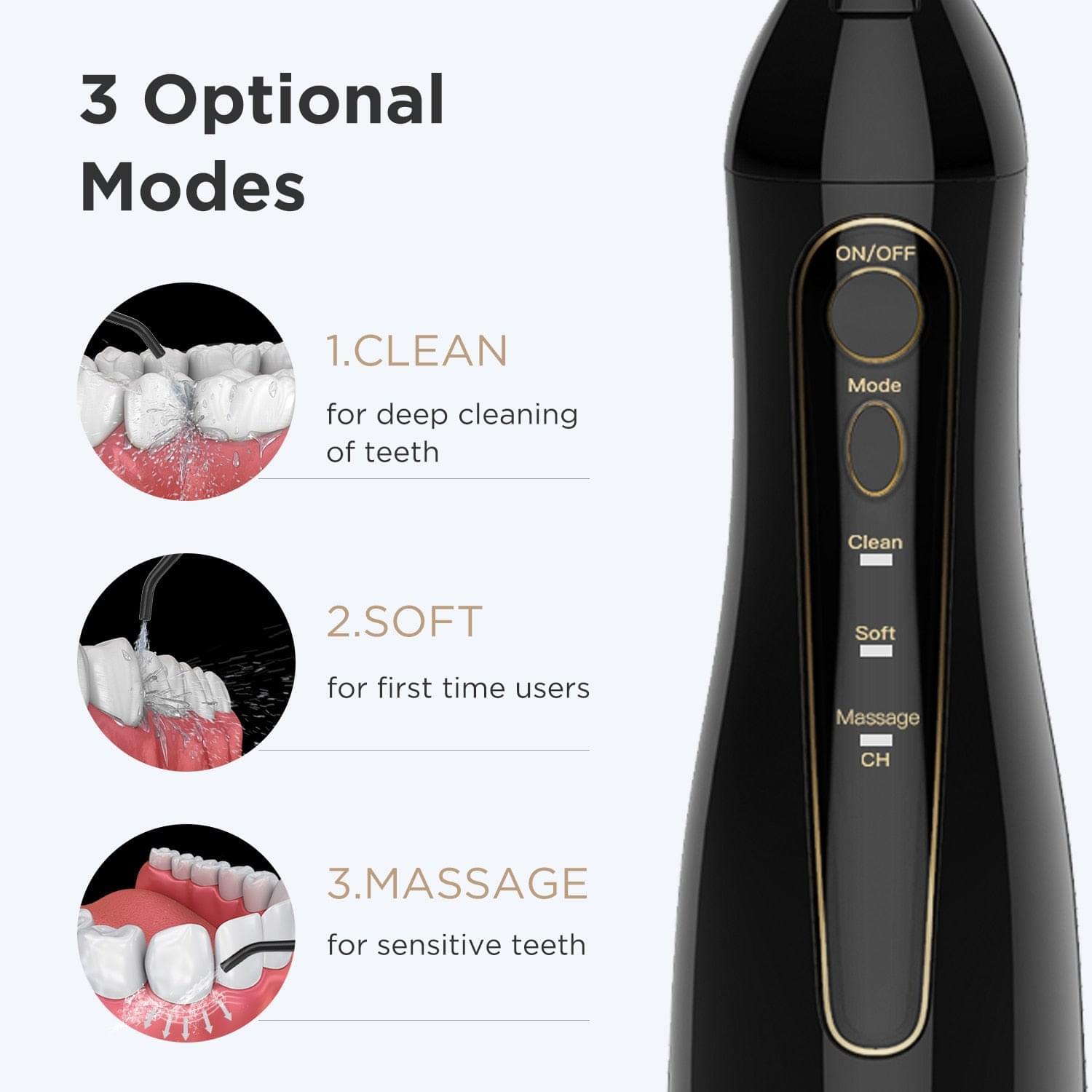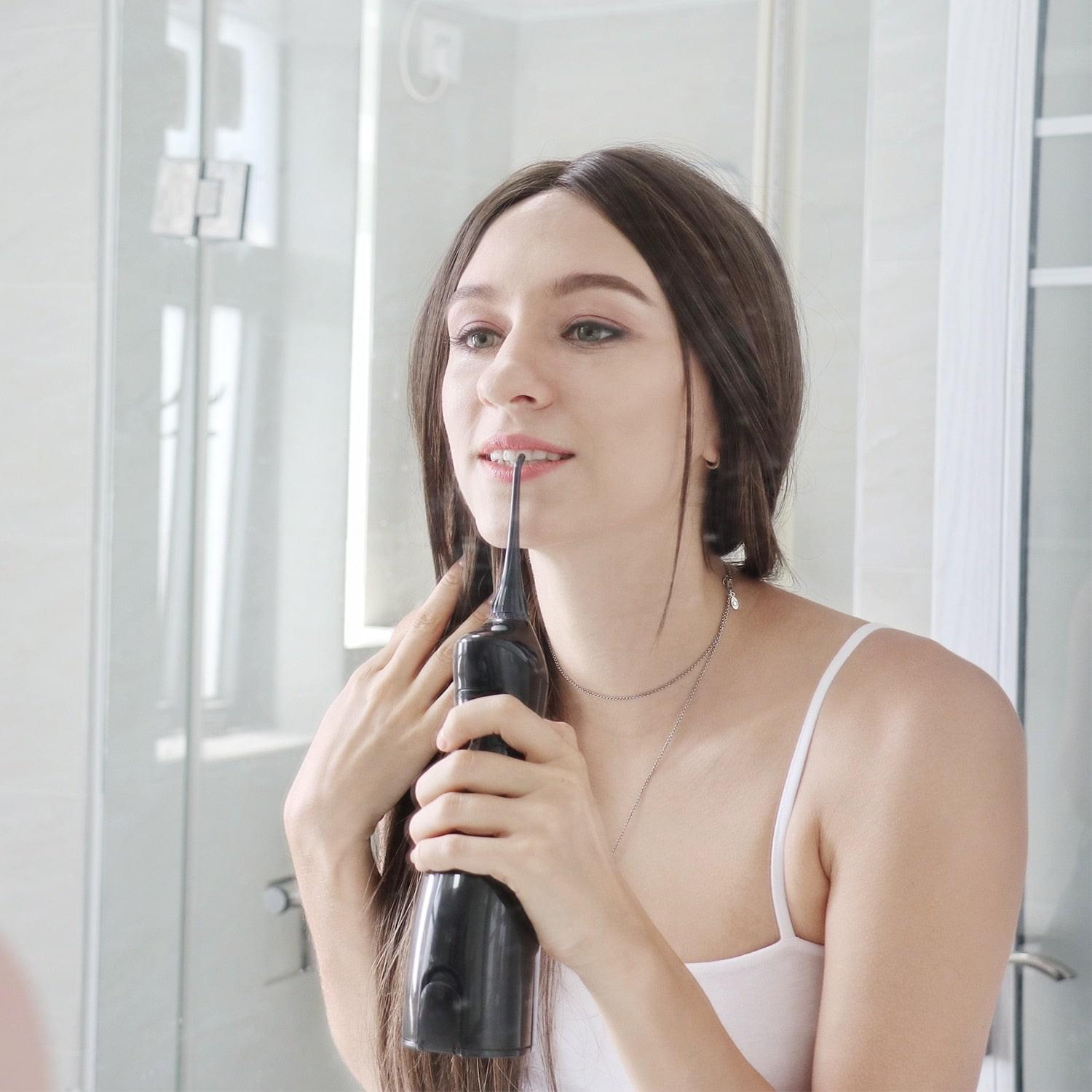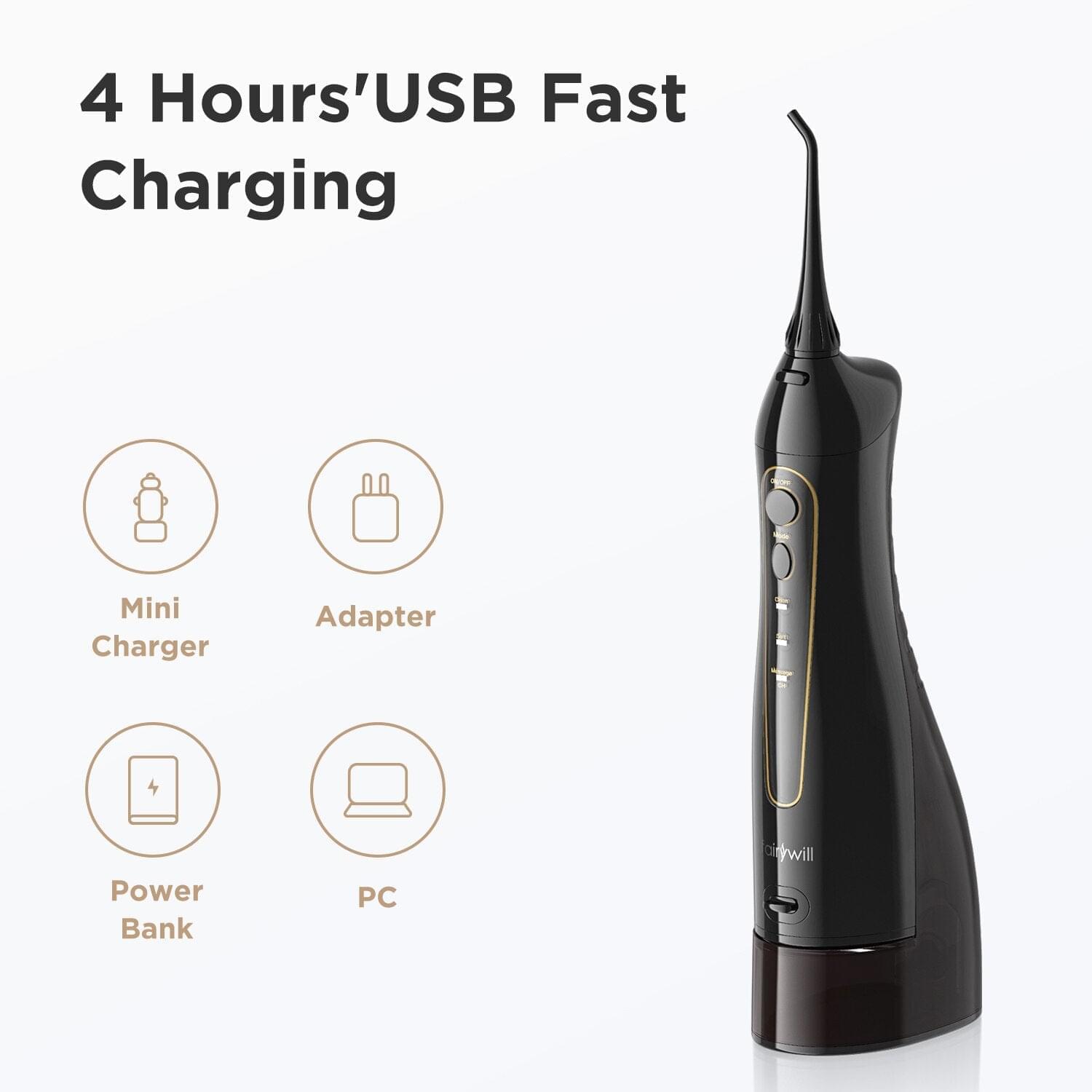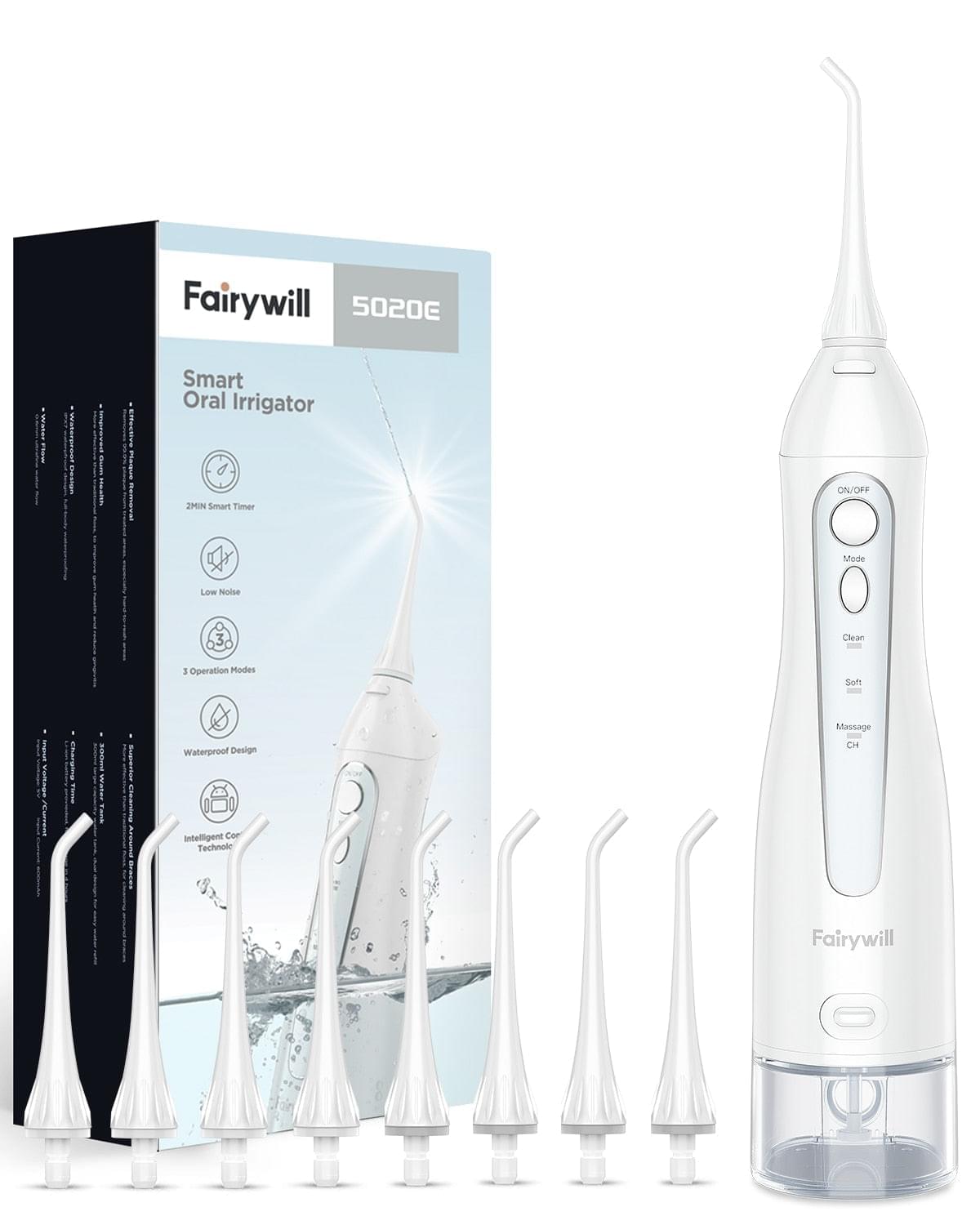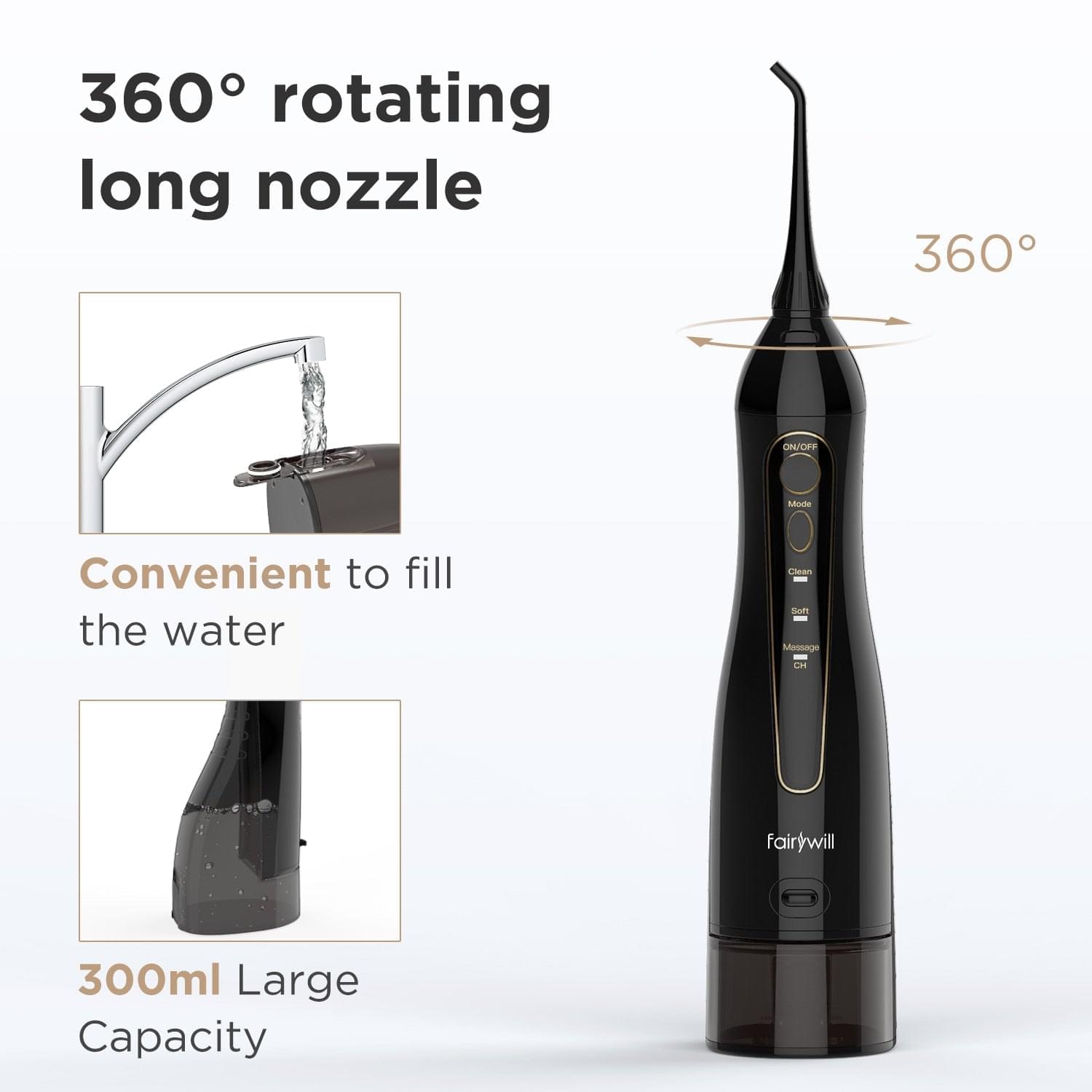 Fairywill Oral Irrigator
---
Looking for a better way to maintain good oral hygiene? Our dental flosser is the solution you've been searching for. It's easy to use, portable, and effective at removing plaque and improving gum health. Say goodbye to traditional flossing methods and hello to a healthier mouth with our dental flosser.
Efficient Plaque Removal for Healthy Gums"
Say goodbye to dental plaque and hello to healthier gums with the Fairywill Oral Irrigator. This advanced oral health tool is designed to efficiently remove plaque and food particles from hard-to-reach areas between your teeth and along the gumline. Its powerful pulsating water jet technology ensures a thorough and refreshing clean, promoting gum health and preventing cavities. With the Fairywill Oral Irrigator, you can experience a dentist-like clean from the comfort of your home, enhancing your overall oral hygiene routine.
Customizable Water Pressure for Personalized Comfort
Discover the perfect oral care experience with the Fairywill Oral Irrigator's customizable water pressure settings. Whether you have sensitive teeth or prefer a more invigorating clean, this oral irrigator allows you to adjust the water pressure to your desired level. Its user-friendly interface makes it easy to select the right setting for you, ensuring a gentle yet effective cleanse every time. Embrace a personalized oral care routine that meets your unique needs with the Fairywill Oral Irrigator.
For the best purchase of the Fairywill Oral Irrigator, Allintechshop.com is your ideal destination. With a wide selection, high-quality products, competitive pricing, secure transactions, and excellent customer service, they stand out as the top choice.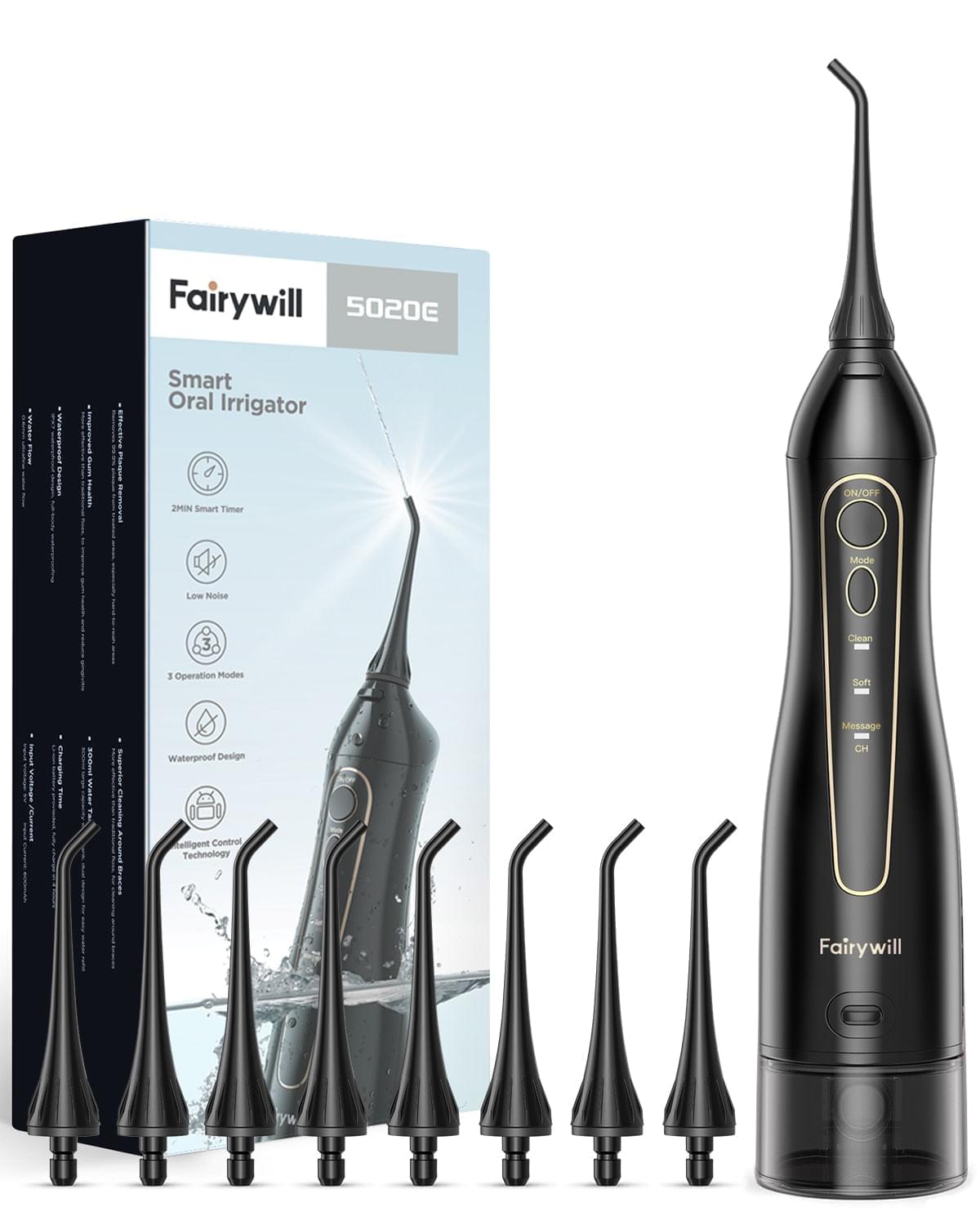 99.90%
Effective Plaque Removal
Take control of your oral health today!
+35,984 customers use it everyday!
"I've been using my dental flosser for a few months now and I'm blown away by the difference it's made in my oral hygiene. It's so much easier to use than traditional floss and it's portable, so I can use it anytime, anywhere. Highly recommend!" - Rachel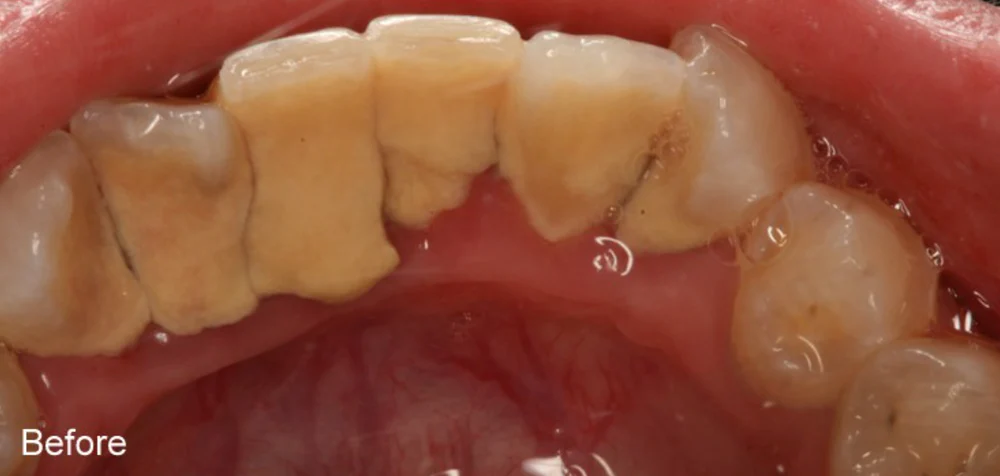 Before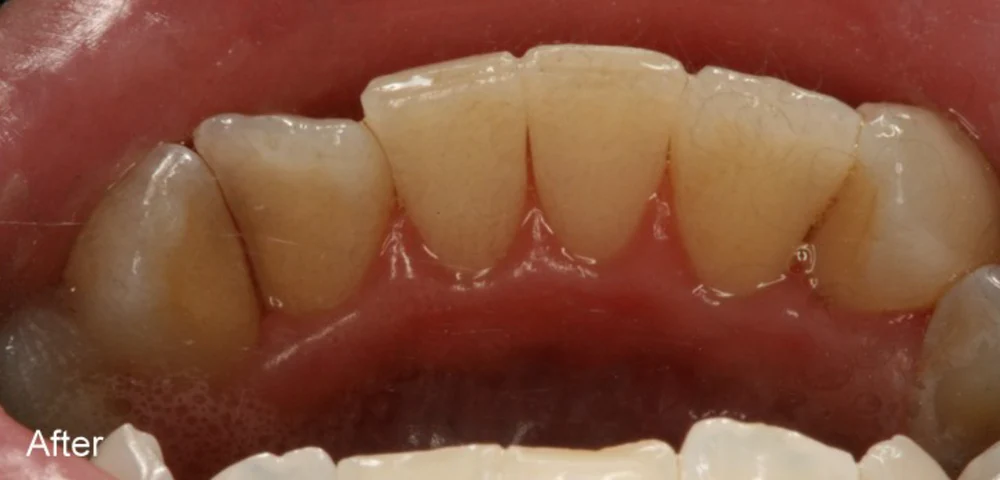 After
Yes, our dental flosser is designed to be easy to use for people of all ages and dexterity levels. It has a simple button-operated design that allows you to control the flossing action with minimal effort.
Yes,it is small and lightweight, making it easy to take with you wherever you go. It fits easily in a purse, backpack, or carry-on bag, so you can maintain good oral hygiene no matter where you are.
Is it more effective than traditional floss?

Many people find that a dental flosser is more effective at removing plaque and food particles than traditional floss. The flosser's water jet action helps to dislodge and remove plaque more effectively, and it can reach areas that traditional floss may miss.
Can I use the dental flosser if I have braces or dental work?

Yes, it is safe to use with braces and other dental work. It is gentle and effective at removing plaque and food particles without damaging or dislodging any dental work.
How often should I use the dental flosser?

It is recommended to use it once daily for optimal oral hygiene. However, you can use it more frequently if needed, such as after meals or snacks.
Is the dental flosser waterproof?

Yes, it is waterproof and safe to use in the shower. It is also easy to clean and maintain.
Our customer support is available Monday to Friday: 8am-8:30pm.
Average answer time: 15 mins
This product has no reviews yet.